Classic review: Schindler's List
A ''nonfiction novel'' based on the life of German industrialist Oscar Schindler.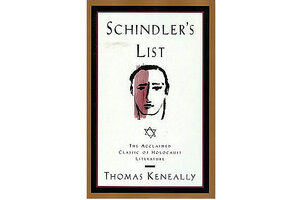 [This review from the Monitor's archives originally ran on Nov. 10, 1982.] The prolific and versatile Australian novelist continues to prove himself one of the least predictable, most interesting of contemporary writers. A series of fictional explorations of his troubled homeland culminated in that strident vision of racial oppression and its consequences ''The Chant of Jimmie Blacksmith'' (1972). Since then, Keneally has ranged amazingly far afield, exploring the intricacies of human adversity undergone in such disparate theaters of operation as France during World War I (''Gossip From the Forest,'' 1976), the American South torn by our own Civil War (''Confederates,'' 1980), and the womb as observed by a sensitive fetus reluctantly about to enter the world (''Passenger,'' 1979).
It seems that Keneally's great subject is the tension between dramatic experiences or events and the ''ordinary'' people fortunate or unfortunate enough to live through them. That pattern shows itself again in Schindler's List, a ''nonfiction novel'' based on the life of Oscar Schindler, a German industrialist who, while closely allied with the Nazi high command throughout World War II years, operated factories in Poland and Czechoslovakia.
For these factories he reclaimed ''industrial prisoners,'' eventually releasing them to safety. Over 1,300 Jews were rescued from the death camps due to the efforts of this highly unlikely ''saviour'' - who, after his passing in 1974, was buried in Jerusalem and was designated a ''righteous person'' by the state of Israel.
---