Blackest Night
The Black Lanterns are on the prowl in this highly anticipated comics collection.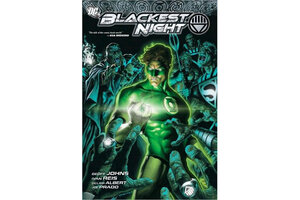 What would happen if dead heroes, villains, and loved ones rose to wreak havoc on the characters of the DC Comics universe? That's the idea behind Blackest Night, a hardcover graphic novel that combines eight bestselling comic books into one of the most highly anticipated comics collection of the year.
As the story begins, we witness the dead rising by the millions, brought back to life by a black ring which flies onto their fingers. These zombies – the recipients of the black rings – are dubbed "Black Lanterns." They quickly strike, trying to add more to their ranks. Friends and foes soon realize they must put aside their differences and join forces to overcome this legion of doom.
This story line is part of what comic fans call an "event" – an overhyped series of books, relying on dozens of characters, that promises to be the best thing you'll read all year. Often these "event" series are major disappointments, so it's amazing and refreshing that "Blackest Night' actually delivers. What starts out as a horror story, with one "oh no" moment after another, quickly becomes a galaxy-spanning adventure that concludes in a rousing, surprise-filled finish. This truly is an "event."
It's no surprise that this was accomplished by bestselling writer Geoff Johns and artist Ivan Reis. This duo previously restored the Green Lantern to his place as one of the most popular of comics heroes (so popular in fact that he's starring in his first movie next year). Johns has taken the "Lantern" idea and cleverly introduced lanterns of other hues, representing an emotional spectrum, such as "Yellow Lanterns" that embody fear, "Blue Lanterns" that express hope, and "Red Lanterns" that exemplify rage. ("Green Lanterns," by the way, embody will.) These colored "Lanterns" come into play against the '"Black Lanterns" of "Blackest Night."
---