Prince Valiant: 1939-1940 (Vol. 2)
Prepare to be awed by the skill and swashbuckling of this comic collection.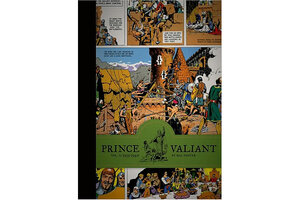 "And so the council resumes its plans for the tenth war against the Saxons." Thus begins Prince Valiant: 1939-1940, Volume 2 of the Prince Valiant series by Hal Foster published by Fantagraphics Books. This volume reprints the color Sunday Prince Valiant comic strips from 1939 through 1940.
We quickly follow the prince into the heat of battle, and when he's victorious, King Arthur rewards him by making him a knight of the Round Table. From there he goes to restore his father as the rightful ruler of Thule, sets out with Sir Gawain and Sir Tristram on one adventure after another, battles dastardly villains including legions of Huns and a giant, and ends the volume caught in a storm at sea. There's more derring-do than you can shake a sword at!
Foster's stories are filled with vivid, colorful characters, none more engaging than the aptly named Valiant and his never-ending quest for adventure. The artwork is breathtaking. Foster's figures are handsome and graceful whether eating a sumptuous feast or fighting on a crowded battlefield. He covers these figures in meticulous, colorful detail: flowing robes, shining armor, adorned castles, and dangerous landscapes. Each panel is a gorgeous piece of art perfectly rendered and composed. The battle scenes are sweeping, illustrating 20 or more warriors, each with their own distinct features and dress all in one panel. You have to admire the artistic ability required to produce one of these strips week after week for decades.
---