Off the Grid
Off-the-grid expert Nick Rosen offers a portrait of some of the Americans who have opted for freedom from the utility grid.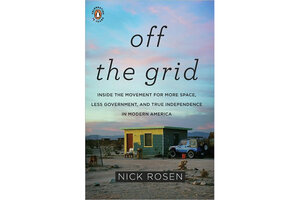 Most of us take the grid for granted. We don't want to think beyond the swirling of the drain or the flip of a switch. We like our creature comforts – hot water for our shower, a bright light at the end of the day – and we don't give much thought as to how those resources get to us.
But a growing number of Americans are challenging the belief in the necessity of the massive utility grid that connects us all. These men and women, in classic American pioneer spirit, have moved off the grid to homes powered by alternative energy. In his broad and sweeping new book, Off the Grid, Nick Rosen explores this subculture – a group to which he himself belongs.
There are as many reasons and ways to move off the grid as there are people who choose to do so. Rosen gives us portraits of novelist Carolyn Chute, who lives heavily armed in the Maine woods; Carlos Proffit, who owns a home on five acres near Albuquerque, N.M., that doesn't even show up on Google Maps; Allan Weisbecker, who lives on a beach in Mexico and claims that we are on the "verge of true catastrophe"; and Daniel Staub and Kristin Brennan, who, along with their children, live off the grid, homeschool, and grow their own food in residential Springfield, Mass.
---