From Fatwa to Jihad
Is multiculturalism to blame for further alienating Muslims who live in Western countries?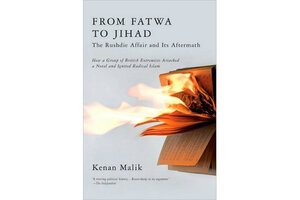 In his engaging book, From Fatwa to Jihad, Kenan Malik posits that the late Ayatollah Khomeini's 1989 fatwa against Indian-British novelist Salman Rushdie (for blaspheming Islam in "The Satanic Verses") was a beginning. According to Malik, that was the event that marked the starting whistle in a contest between Enlightenment notions of free expression and the most extreme interpretations of Islam.
Malik, himself an Indian-British journalist, aruges that multiculturalism has failed to harmonize relations between British Muslims and their countrymen, succeeding instead in fostering a culture of grievance and alienation that ultimately led to the July 2005 train bombings in London by homegrown jihadists.
In the British context, multiculturalism was an implicit bargain between the state and self-appointed minority community leaders whereby the former would grant the latter prestige and funds in exchange for votes and tranquility, says Malik. But the deal has backfired, and the loudest and most extreme Muslim leaders have been granted legitimacy as the authentic representatives of diverse communities. Worse, Western apologies in the face of threats have only emboldened Islamist extremists.
---