Nobody Turn Me Around
How infighting almost silenced Dr. King's momentous "I Have a Dream" speech.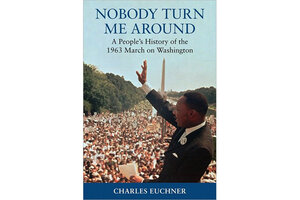 On Aug. 28, 1963, as part of the historic March on Washington, Martin Luther King Jr. delivered his electrifying, era-defining "I Have a Dream" speech in front of some 250,000 spectators and a national television audience. In the end, Dr. King's "I Have a Dream" speech would move a nation to action. President John F. Kennedy would be assassinated by that year's end, but Lyndon B. Johnson would carry on the martyred president's civil rights agenda (and then some). Both a public accommodations bill and a voting rights bill would become law, despite passionate opposition from segregationists.
Behind the scenes, however, the March on Washington almost collapsed under the strain of massive bickering and internal disagreements. In Nobody Turn Me Around, academic and author Charles Euchner does an excellent job of telling the lesser-known story of the internal contradictions that nearly destroyed the historic event.
Pulling the march together was far from easy. Organizers intended to put public pressure on the Kennedy administration to support a new civil rights bill that would guarantee blacks equal treatment in public accommodations. The march was organized jointly by several civil rights groups around a theme of nonviolent political action. Like any mobilization of a broad coalition, the more radical elements inside the civil rights movement complained that the message was being watered down for mass consumption. President Kennedy, unsurprisingly, asked organizers to cancel the march, which he deemed needlessly provocative. Black Muslim Malcolm X, on the other hand, refused to join because it wasn't confrontational enough, satirizing the event as the "Farce on Washington."
---
Follow Stories Like This
Get the Monitor stories you care about delivered to your inbox.