The Cross of Redemption
These previously uncollected writings of James Baldwin highlight both his intellect and his passion.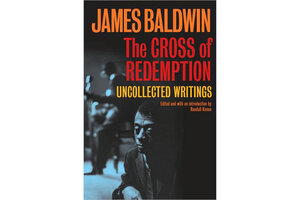 Few writers have articulated the role of The Other as passionately or eloquently as James Baldwin. A gay black man born impoverished in pre-Civil Rights-era Harlem, Baldwin wrote church sermons before moving on to the secular world of fiction. This background gave him many angles from which to analyze and attack his outsider status. The essays compiled in The Cross of Redemption show that while Baldwin was committed to pulling back the curtain on the forces he felt were manipulating America's problems, he was also very serious about closing the gap between those in power and the disenfranchised. This new collection shows that he was willing to take on black, white, rich, or poor to see that happen.
Even as Martin Luther King Jr. eventually shifted his focus from racism to the questions of economy and class, Baldwin too – as can clearly be seen in these previously uncollected writings – thought in bigger economic terms, framing "the Negro problem" as merely a symptom of the American attraction to empty consumerism and violence.
This collection, which includes book reviews, speeches, essays, forewords, and letters, often approaches the issue through an artist's lens. In the first essay, "Mass Culture and the Creative Artist: Some Personal Notes," Baldwin posits that the acquisition of art or artistic experiences has become more sought after than the information or experience itself. One can only imagine how horrified Baldwin would have been by 21st-century reality TV and the things people will do for a taste of – or even the appearance of – money. "The people who run the mass media and those who consume it are really in the same boat," wrote Baldwin."They must continue to produce things they do not really admire, still less love, in order to continue buying things they do not really want, still less need."
---
Follow Stories Like This
Get the Monitor stories you care about delivered to your inbox.