Packing for Mars
What might you expect on a flight to Mars? Here's the nitty gritty.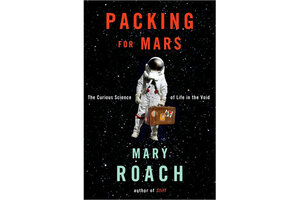 Behind every astronaut capturing headlines during a space shuttle or space station mission, there are a few good human guinea pigs – mostly living, some not.
Leon M. (living) spends three months lying in bed at a university medical center, gradually losing bone mass in a study on the effects of prolonged weightlessness.
Felix Baumgartner, a dare-devil skydiver, preps for a record high dive – from 120,000 feet – to test a new generation of flight-pressure suits (living, but heavily insured?).
And there's "F," a male volunteer (not living) who will serve as a crash dummy to see how well a seat design for NASA's Orion crew capsule protects astronauts and their innards from a harder-than expected thud.
These are among the characters that inhabit Mary Roach's latest book, Packing for Mars: The Curious Science of Life in the Void.
In one sense, the title is a bit of a misdirection. Roach spends only the last 10 pages directly addressing human missions to Mars. Spoiler alert: She'd like to see them happen. But there's not much there if you're looking for plausible or fanciful approaches to hurling astronauts to Mars and back.
Almost every chapter, however, touches on research into aspects of spaceflight relevant to planning trips to asteroids, Mars, and the moon.
---