The Tiger: A True Story of Vengeance and Survival
This nonfiction account of a man tracking a tiger in Russia's far east reads like a detective story.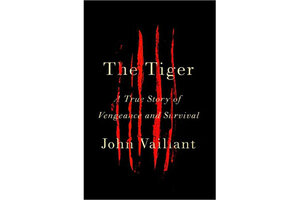 John Vaillant connects us to the primitive and the primeval in his mesmerizing account of a tiger killing in far eastern Russia in the depths of winter 1997. The Tiger is nature writing of the highest order and more; it's also a meditation on perestroika gone wrong, what it takes to keep a region going, and the relationship between predator and prey. It's nonfiction as riveting as any detective story.
"The Tiger" brings us into the heart of Primorye, a "remote and slender threshold realm in which creatures of the subarctic have been overlapping with those of the subtropics since before the last Ice Age." Dotted with tiny, barely surviving communities, it is about the size of Washington State and the crossroads of four distinct bioregions – what Vaillant calls a Boreal Jungle, where timber wolves and reindeer share terrain with poisonous snakes, and the Amur tiger, an "apex predator," rules.
One of these tigers killed Vladimir Markov, a poacher attempting to profit from the trade in illegal tiger parts that blossomed between Russia and China in the early 1990s. Yuri Trush, the head of a Russian federal Inspection Tiger unit, is charged with tracking down the suspected beast. That tracking is the frame of Vaillant's stark, curiously noble probe of a fragile balance between man and nature that has been grievously disrupted in the Primorye territory. It also is about the relationship between Umwelt and Umgebung, German words for, respectively, the world each being occupies individually and the greater world we all share.
---