The Twilight of the Bombs
An end to the threat of a nuclear bomb? Not quite yet.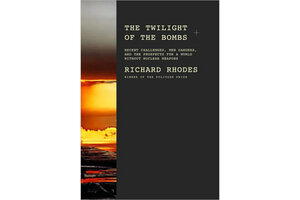 In 1988, Richard Rhodes won the Pulitzer Prize for "The Making of The Atomic Bomb," the first of several books he's written about nuclear weapons and nuclear diplomacy. Rhodes calls The Twilight of the Bombs the final narrative in what has now stretched to a four-volume series.
While the title of Rhodes's latest book might hint at an imminent close to the age of nuclear weapons, he doesn't see the sun setting on the era of nuclear bombs just yet.
But Rhodes does offer hope. "Although the world continues at risk, by the second decade of the twenty-first century the end of the Cold War and its transformative aftermath have opened the clear prospect of moving to a world free of nuclear weapons ... where common security rather than the threat of nuclear retaliation will guard the peace," Rhodes tells readers.
Stretching from the heady days at the end of the cold war to the current challenges of nuclear terrorism, the story of "Twilight" gives plenty of evidence for pessimism regarding nuclear disarmament. Many of the victories Rhodes notes in "Twilight of the Bombs" come from the nail-biting improvisation of leaders acting beyond the official playbook, suggesting global security more by accident than design.
Revisiting the thorny issue of weapons inspections in Iraq after the end of the Gulf War in 1991, "Twilight" discloses how an inventive band of inspectors fought bureaucratic inertia to probe Iraq's nuclear potential – and how subsequent political miscalculation in both Baghdad and Washington laid the groundwork for another war in Iraq.
---