The Hare with Amber Eyes
An artist traces a century of heartbreaking family history by pursuing the path of a group of tiny, beloved objets d'art.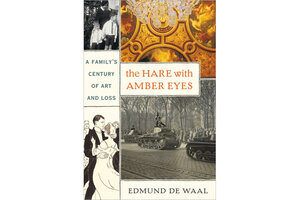 Every story needs a point of entry, and Edmund de Waal has chosen a brilliant one for The Hare with Amber Eyes, his extraordinary history of his "staggeringly rich" Russian-Jewish banking family, who flourished in Paris and Vienna from the late 19th century until Hitler's Anschluss.
De Waal, a British potter and professor of ceramics whose porcelains are included in many prominent museum collections, values beautiful objects. Given this aesthetic appreciation, his approach to the Ephrussi family's phenomenal story through their collection of 264 Japanese ivory and wood netsuke, which first came into the family in the 1870s, seems especially apt.
Bought by a cousin of de Waal's great-grandfather during the height of the Japonisme craze in late 19th-century Paris, these miniature carvings were originally created as small toggles to secure purses suspended on cords from kimono sashes. They made it down to the author through five generations – thanks in large part to his great-grandmother's loyal maid who bravely, defiantly smuggled a few at a time out of the Ephrussis' Viennese palace in her apron pockets, right under the noses of the occupying Gestapo.
In tracing their journey, de Waal's inquiry takes him to Japan, Paris, Vienna, and Odessa, reconstructing the gilded life his cosmopolitan ancestors lived against a backdrop of ever-present, insidious, escalating anti-Semitism.
De Waal is an uncommonly sensitive, self-aware biographer, worried, as he stands outside his family's old palaces, about being "like some sad art-historical gumshoe" and never getting "beyond a connoisseurial inventory of the grand furnishings." He writes, "I really don't want to get into the sepia saga business, writing up some elegiac Mitteleuropa narrative of loss."
---
Follow Stories Like This
Get the Monitor stories you care about delivered to your inbox.