How to Make Peace in the Middle East in Six Months or Less Without Leaving Your Apartment
A Middle East analyst seeks, through many conversations and a bit of offbeat humor, a resolution to the conflict.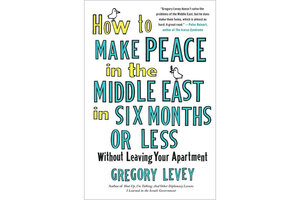 Peace talks between Israelis and Palestinians, brokered by Secretary of State Hillary Rodham Clinton, are set to resume in two weeks' time. Israeli Prime Minister Benjamin Netanyahu says reconciliation is "difficult but possible." That was last month.
The same week, a young woman posted photos of herself on Facebook, broadly smiling in her Israeli army uniform in front of bound and blindfolded Palestinian prisoners. In the ensuing media maelstrom, Eden Abergil acknowledged that her album was "thoughtless," then, in a display of either pitiful naiveté or the arrogant confidence of her convictions, stated: "I still don't understand what wasn't OK."
Day after day, year after year, the Israeli-Palestinian tumult continues. Occasional highs, such as the 2003 road map, have been marred by frequent lows, including the two intifadas. Constantly confronted with the region's struggles, everyone, regardless of lifestyle or location, seems to have an opinion.
---