Brazil on the Rise
American journalist Larry Rohter analyzes the dramatic transformation of Brazil over the course of the past four decades.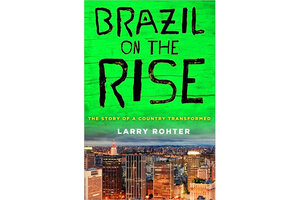 When Larry Rohter, then an aspiring China scholar, first dropped into Brazil in 1972, he saw a country on a path that few envied. It was in the middle of a 21-year military dictatorship and "wanted" posters of young, long-haired "terrorists" hung on the walls of the airport he entered. The press was censored. Brazilian debt to the International Monetary Fund (IMF) and other international lenders was spiraling. Inflation was the untamable "dragon," as it was called in Portuguese slang, and totaled an approximate quadrillion percent cumulatively in the 20th century.
Now? The fertile and massive nation, whose Amazon region alone is bigger than all of Europe, is each day more seriously fulfilling its potential – though not without serious drawbacks. Rohter, a 14-year Newsweek and New York Times correspondent, traces the course of Brazil's ascendancy in the alternately lively and hard-hitting Brazil on the Rise: The Story of a Country Transformed.
"In purely historical terms, 40 years is barely the blink of an eye," Rohter writes. "Yet over the last four decades, Brazil has arguably experienced deeper and more profound changes than it did during some of the centuries when it was a Portuguese colony."
---