Winner-Take-All Politics
Why do the rich get richer? These authors blame the Republicans.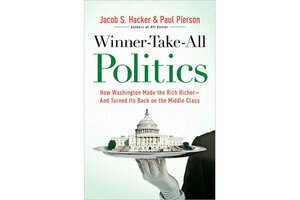 Ever wonder how it came to this: Republicans and Democrats behaving like Sunnis and Shiites in Iraq, ever more gridlocked and unable to address national problems in a rational, bipartisan way? Or why the middle class is treading water, at best, while the super-rich wax inexorably richer? Here's another poser: Why would the Republican Party, which lost the last two elections in dramatic fashion, react by continuing to grow, as it has for decades, ever more conservative and obstructionist, rather than giving moderation a chance?
In their bicoastal narrative, Winner-Take-All Politics: How Washington Made the Rich Richer – And Turned Its Back on the Middle Class, Jacob S. Hacker, Yale professor of political science, and Paul Pierson, the same at the University of California, Berkeley, tackle these and other questions in a well-researched, albeit occasionally repetitive, analysis. They build their ideological edifice brick by brick, pointing out things that most Americans, including this reviewer, may not fully grasp – at least at the level of historical and economic detail that the two authors provide.
The numbers they cite are arresting. Take 2009, for example. It was a simply awful year for almost all Americans – "almost" being a key qualifier. It was, in fact, a very good year on Wall Street, where the 38 top firms earned a total of $140 billion. Goldman Sachs had its best year since 1869, the authors write, paying its minions an average of $600,000 per person. Rather than melting down, GS somehow melted up, with some help from Uncle Sam.
---