Classic review: Tepper Isn't Going Out
Calvin Trillin serves up a novel "as deightful as finding a free spot in Time Square."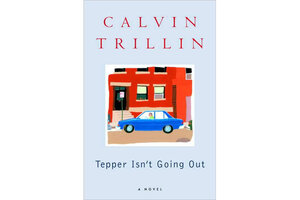 [This review from the Monitor's archives originally ran on Jan. 24, 2002.] If you drive a car in a major city, you know that the success of an evening has nothing to do with the charm of your date, the taste of the food, or the brilliance of the theater. It's all about the quality of your parking space.
With Tepper Isn't Going Out, Calvin Trillin has written a novel that's as delightful as finding a free spot in Times Square. His gentle hero is Murray Tepper, a kind of Chauncey Gardiner with a driver's license.
Tepper has spent his life in New York City. And he knows where to park. He knows where the fire hydrants lurk, where he can leave his car overnight, where he must switch sides by 11 a.m., and even where "Diplomatic Plates Only" signs cause special problems. "There were nights when he was totally confident of finding a spot," Trillin writes. "There were nights when he could almost imagine himself with a large tattoo on his arm that said, BORN TO PARK."
As the cofounder of Worldwide Lists, a mailing-list brokerage firm, Tepper spends his workdays trying to discern the mysterious connections between apparently disparate groups of people. Will buyers of nose-hair cutters go for lettuce dryers? His goal is to find the "magic button," the list of people who will buy anything. But in the evenings, he likes to spend an hour or so in his car next to a paid-up meter, reading the paper.
So begins Trillin's perpetually amusing fable of a simple man with a simple pastime who disrupts America's biggest city.
---