Bloody Crimes
Abraham Lincoln and Jefferson Davis: Two journeys, two martyrs in the aftermath of the Civil War.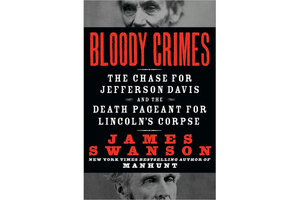 Just days earlier, they were two presidents who lived in White Houses separated by a few dozen miles and a canyon as wide as the world.
Now one was dead and the other on the run, both embarking on journeys that would help transform them from men to martyrs. One became a country's savior and the other a noble leader whose lost cause, at least to some eyes, was just.
How'd it happen? Civil War historian James Swanson finds the answer in his eloquent and wrenching new book, Bloody Crimes: The Chase for Jefferson Davis and the Death Pageant for Lincoln's Corpse.
Only one of the dual voyages is truly extraordinary, and the book lacks the high-tension suspense of Swanson's 2006 bestseller "Manhunt: The 12-Day Chase for Lincoln's Killer." This time, he has less drama to work with. But he continues to serve as the Ken Burns of history-book storytelling, capturing the incredible emotions that swirled through a divided nation already torn by the war deaths of 620,000 men.
As Swanson puts it, the spring of 1865, when the book's events took place, "was the most remarkable season in American history." That's no exaggeration: Within days, the Civil War essentially ended and the North celebrated while weary, hungry, and frightened Southerners waited for the worst. Then came one more death at Ford's Theatre.
---
Follow Stories Like This
Get the Monitor stories you care about delivered to your inbox.