A Privilege to Die
Twenty-eight years after its inception, why is Hezbollah the Middle East's most formidable extra-state actor?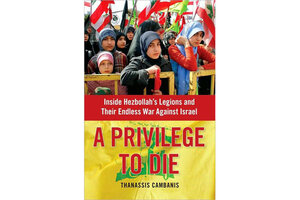 If the pessimists are right, and another war between Israel and the Lebanese Shiite militant group Hezbollah is imminent, then Thanassis Cambanis's A Privilege to Die: Inside Hezbollah's Legions and Their Endless War Against Israel could not have come at a more opportune moment. But even if war does not soon cast its pall over the Middle East, this book is an indispensable guide to understanding the region's most formidable extra-state actor. Cambanis, who has reported on Lebanon for The New York Times and The Boston Globe, skillfully pinpoints the reasons for Hezbollah's political success, and only toward the end of the book does his sober analysis detour slightly toward sensationalism.
Hezbollah, which means "Party of God" in Arabic, was created by Iranian Revolutionary Guards and Lebanese Shiites in 1982 in response to Israel's invasion of Lebanon. But today, a decade after compelling the Israeli army to withdraw from Lebanon, the party shows no sign of moderating. In fact, supported by Iran (and Syria), it may be at the peak of its power. How did this happen? According to Cambanis, "[t]hree things distinguish Hezbollah from other Islamist movements in the region: its clearly articulated ideology; the fervor of its followers; and its success at expanding membership and inflicting military harm against its enemies."
---
Follow Stories Like This
Get the Monitor stories you care about delivered to your inbox.