Obama's Wars
More than anything else, "Obama's Wars" – Bob Woodward's latest must-read political tome – is a study in leadership and management style.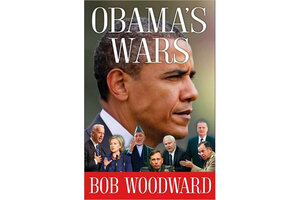 Teachers of the world, relax: Bob Woodward is here to tell us about verbs. One of the main themes of his new page-turner, Obama's Wars, is the unending battle among the mucky-mucks and Pentagon brass over the correct action verb to describe the United States' mission in Afghanistan. Helpfully, for purposes of retention, it is an alliterative problem. Does the United States wish to "defeat" the Taliban, or merely "disrupt" it? Dismantle or degrade it? Surely not destroy it?
Toward the book's end the reader sighs at the resolution of this dilemma, which could occur with straight faces only in Washington, where phrases like "nattering nabobs of negativity" and "boob bait for the bubbas" were immortalized. President Obama ultimately defines the policy in Afghanistan thus: The United States will reverse the Taliban's momentum and then deny, disrupt, and degrade it. What exactly the Taliban will be denied is left to the reader's imagination, but your reviewer conjured up the image of a Shaq-like defensive swat at the rim: denied!
---