From Shadow to Light: The Life & Art of Mort Meskin
DC Comics artist Mort Meskin's remarkable talent is showcased in this retrospective on his life and work.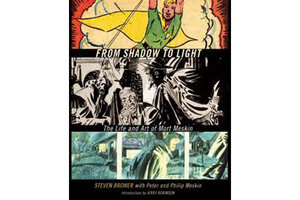 When asked to name a great comic book artist, Mort Meskin may not be a name that pops into the minds of most fans, but it should be. The huge amount of amazing comic work he did from the 1940s through the '60s is today mostly remembered by the artists he's influenced rather than by comic aficionados. Meskin, however, deserves to be treasured by all comic fans and studied by all artists of the medium. Now, at last, he gets some of the attention he is due in From Shadow to Light: The Life & Art of Mort Meskin by Steven Brower. This coffee table book showcases Meskin's art and offers a concise biography that outlines Meskin's struggle – through most of his life – with a fragile mental state.
On display in this book are amazing examples of comic art. Meskin was one of the few early comic artists to have been formally trained at an art school, and it showed with his fluid, anatomically correct figures and detailed backgrounds. He is most recognizable for the bold blacks and strong light-and-dark contrasts of his chiaroscuro technique. Sometimes – as described in the text and shown with plenty of original art – Meskin would cover an entire page with a gray tone using the flat of his pencil and then chisel out shapes and layouts with an eraser. He liked to work large, with some of his panels created as full-size illustrations as wide as 16 inches.
Besides his better known work for DC Comics (The Vigilante and Johnny Quick), there are examples of other characters such as Golden Lad and Fighting Yank. We also get to see lots of Meskin's unpublished work and aborted projects for the first time, including his later advertising work and personal images. There are hours and hours of art here to admire and to study.
---