Extraordinary, Ordinary People
Condoleezza Rice's memoir is largely a loving tribute to the parents who were "anxious.... perhaps a little too anxious" to give her a head start in life.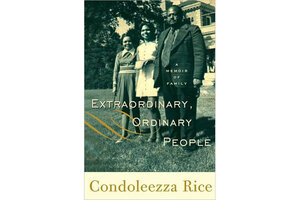 The lovely but atypical name "Condoleezza" is a phonetic spelling of an Italian musical term. The Rices fiddled with the idea of naming a first child – who would, as it happened, be their only child – "Andantino" or " Allegro" but her mother settled upon con dolcezza when she learned it translated "with sweetness." In keeping with Condoleezza Rice's birth name, her memoir focuses on the sugary side of her life and work. Though politically, Rice may be a moderate to conservative hawk, Extraordinary, Ordinary People is the work of a dove – an ode to her parents, with sweetness and love.
Remember, too, that Condoleezza Rice is a Southerner by birth. "Extraordinary, Ordinary People" exhibits a Southern belle's exaggerated sense of propriety by abhorring those politically indelicate subjects: Iraq, Guantánamo, Colin Powell's resignation, the Patriot Act, 9/11, and ensuing events are not discussed in this nostalgic commemoration to her parents. But while the Iraq is off the table in a book that abruptly closes in 2000, "Extraordinary, Ordinary People" still offers glimpses of insight into a question which many will find equally as compelling as the controversial war: How did a black woman from Birmingham, Ala., rise in the Republican ranks to become George W.'s national security adviser and then secretary of State?
---