Travels in Siberia
New Yorker writer Ian Frazier makes a foray to Siberia, the "greatest horrible country in the world."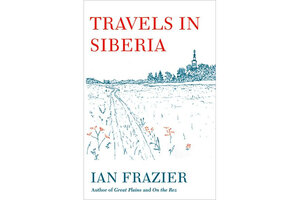 It took bestselling author Ian Frazier ("On the Rez" and "The Great Plains") about 16 years and countless back-and-forths to Russia to pen his latest ponderous but often evocative adventurelogue, Travels in Siberia. Frazier fills his 500-page tome with everything he knows and loves about Siberia, and then some. He does know and love a lot about it – the language, the geography, the history (especially the Decembrists, those 100 or so Russian Army officers who were exiled to Siberia after their failed coup attempt in December of 1825 against the ascending czar, Nicholas I). As for the "and then some": On the upside, he offers his reader hand-drawn sketches he's made of landscapes and cityscapes. It's a nice touch.
On the downside, there are way too many descriptions of airport layovers, tarmac delays, squalid bathrooms, etc. Having said that, Frazier must then be commended for his effervescing enthusiasm for a place synonymous with exile, prison camps, and Mongol hordes. "Travels in Siberia" is certainly no Martha Stewart lover's romp through petit fours paradise. (About the only thing Frazier finds to eat and drink in the entire 7,000-mile expanse are hairy kielbasas and suspect "bottled water.") But if you have the stomach for reading a far-flung, nose-numbing, outlandish travel adventure, it doesn't get any better than this.
Frazier begins his foray to "the greatest horrible country in the world" as he refers to it, by flying to Nome and then taking a puddle hopper out into the Bering Sea to the tiny island of Little Diomede just so he can gaze across the watery, two-mile divide at the island's larger twin, Big Diomede, the geographically farthest eastern point in all of Russia.
---