Growing Up Laughing
Marlo Thomas remembers her own childhood even as she asks top comics: "How did you become funny?"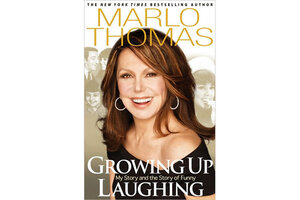 Did you hear the one about the girl whose dad was a comedian?
Marlo Thomas grew up surrounded by comedy legends. Milton Berle did magic tricks at her birthday parties (and was heckled by the kids). George Burns, Sid Caesar, Don Rickles, Bob Newhart, and all the others all played cards with her dad, Danny Thomas, and were frequent guests. The Thomas's dinner table was a stage, and the quickest way out of trouble for Marlo and her siblings was to make her dad laugh.
In her new memoir, Growing Up Laughing, the actress, author, and activist intersperses vignettes from her childhood and days starring in the Emmy-winning sitcom, "That Girl," with interviews with some of the most famous comedians working today – from Jon Stewart, Stephen Colbert, Chris Rock, and Tina Fey to Billy Crystal, Robin Williams, Lily Tomlin, and Whoopi Goldberg. (Thomas gets major points from this reader for including deadpan comic Stephen Wright.)
---
Follow Stories Like This
Get the Monitor stories you care about delivered to your inbox.