The Best American Essays 2010
The essays in this year's anthology – edited by Christopher Hitchens – are both varied and bold.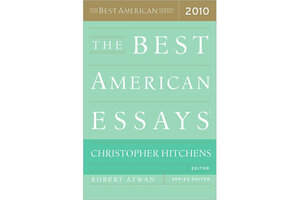 In 1571, Frenchman Michel de Montaigne retired from public life, retreated to his library, and began a series of writings in which he mused in the first person on everything from dinner to death, fashion to philosophy, literature to the human thumb. That's how the personal essay was born, as Jane Kramer reminds readers in her own essay on Montaigne published in The New Yorker.
It's one of 21 essays reprinted in The Best American Essays 2010, an annual anthology of the finest essays written for American periodicals. Each selection, in its own way, aspires to the standard that Kramer credits Montaigne with setting centuries ago, offering readers "the autobiography of a mind."
Veteran fans of "The Best American Essays" series, which has been going a quarter of a century, already know the format. This year's guest editor is Christopher Hitchens. Hitchens, like many readers, mentions that he first encountered the essay in its most boring of forms – as one of those dreary compositions assigned in grade school. But Hitchens quickly adds that the very word "essay" has the power to thrill, suggesting as it does a trial or experiment.
The essays in this year's anthology answer that call to intellectual daring, and they also capitalize on the essay's chief virtue: variety.
Elif Batuman retraces the ground where a great Russian writer spent his last days in "The Murder of Leo Tolstoy." Brian Doyle offers a wry look at the reasons people divorce in "Irreconcilable Dissonance." Phillip Lopate, both a great essayist and a scholar of the form, reflects on his neighborhood in "Brooklyn the Unknowable." Steven Pinker follows Montaigne's tradition of inspired navel-gazing by considering his own genetics in "My Genome, My Self."
---