A Small Furry Prayer
One couple's star-crossed love affair with dangerous, dying, and dumb dogs.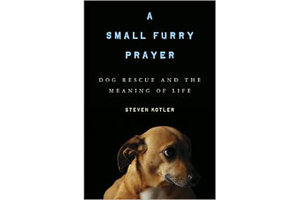 At first glance, A Small Furry Prayer looks like yet another entry in the endless series of books about adorable canine scamps who heal marriages, comfort the sick, and bring joy to the world. There's even a cute puppy on the cover with pleading eyes and a silent message: "I was told there would be doggy biscuits."
Put your visions of head scratches and tummy rubs on pause. This gritty journey into "a world made of dog" is unlike any dog story you've ever read.
Awash in doubt and heartache, it's the original tale of one couple's star-crossed love affair with dangerous, dying, and dumb dogs. It also chronicles the author's quest through science and the sacred to understand the complex emotional ties between man and beast.
Back in 2007, an unfortunate and predictable series of events led author Steven Kotler and his girlfriend to pack up their eight dogs and leave Los Angeles for northern New Mexico. Their plan is to open a dog sanctuary in a part of the country that's home to mountains, miracles, a high heroin overdose rate, and a severe lack of "normal people."
Painfully introspective and damaged by a long illness, Kotler feels lost despite his having a destination: "I was forty years old and no longer sure my life meant much of anything."
In New Mexico, life turns out to encompass a collection of canine characters. There's Squirt, an indelicate female dachshund-pug and "brawler with a short fuse and a roamer with no common sense" who looks like "three bowling balls stuffed inside a tube sock."
---
Follow Stories Like This
Get the Monitor stories you care about delivered to your inbox.