Mao's Great Famine
Historian Frank Dikötter pieces together an astounding portrayal of the human suffering behind China's 'Great Leap Forward.'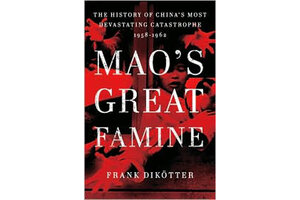 In the late 1950s, thousands of Chinese farmers starved to death while toiling on massive irrigation projects, under orders to meet Mao Zedong's outlandish expectations for growth. Most laborers didn't speak up because they feared the authorities would label them rightists.
Under the "Great Leap Forward," as Mao called it, China was supposed to be able to catch up to Britain's steel production in 15 years – an utterly unrealistic goal which led to a horrific famine and crisis. Villagers in one northern province called the projects "The Killings Fields," an eerie presage of Pol Pot's Cambodia. Heaps of bodies were dumped into ditches – as the world would later see done by the Khmer Rouge.
In Mao's Great Famine, historian Frank Dikötter assembles a treasure chest of these historic facts, but more important, he strokes them together into a masterly and memorable story. He unearths astounding evidence of the violence carried out in the name of Maoism from 1958 to 1962 – a tragedy whose scope has been uncertain until recently, because the party had revealed its documents only to their most trusted historians.
A new archive law in China, however, has opened up access to thousands of government documents. Dikötter relied heavily on those mostly provincial records, piecing together a picture of the political manipulation at the top and human toll at the bottom.
He claims that many scholars may have underestimated the range of deaths at 15 million to 32 million, because they relied on sparse information based on census figures. Dikötter, on the other hand, places the number of unnecessary deaths in those four years at 45 million or more.
---