Power Trip: The Story of America's Love Affair with Energy
Author Amanda Little talks about America's energy addiction and how it can be cured.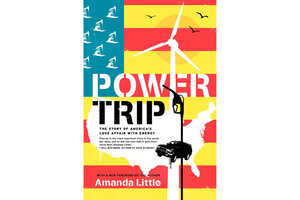 It's easy to point the finger at the government and wealthy oil tycoons. But the truth is, when it comes to irresponsible energy consumption, we're all to blame.
Journalist Amanda Little spent 10 years criticizing the US government for failing to promote energy alternatives. But when Little studied her personal consumption patterns, she began to realize how reliant she was on these same elements. She wore clothing made of synthetic plastic, took notes with petroleum-derived ink, and ate cereal made from whole grains that had been treated with oil-derived fertilizers.
I recently had the chance to talk with Little about her new book Power Trip: The Story of America's Love Affair with Energy.
What have we learned from this year's BP oil spill in the Gulf of Mexico?
My concerns have intensified because I'm not so sure that we've absorbed the lessons of that disaster. We suffer from a delusion, a myth, that we can live energy-lavish lifestyles without experiencing any negative effects. The BP oil spill punctured that myth. We saw these wrenching images that suddenly exposed to us the risks of extreme oil drilling. [But] my concern is that we are already forgetting.
You tell us why America needs to kick its addiction to fossil fuels. But how should individuals modify their behavior to do it?
Certainly the single greatest impact we can have on oil consumption would be to opt for an energy-efficient [hybrid or electric] car, or as efficient a car as possible. Now that's not economically available to a lot of us, but we can never underestimate the importance of carpooling, public transit, bike riding. Seventy percent of Americans commute to work every day in an automobile, alone, and only roughly 9 percent use public transit in any meaningful way. It's shocking. We consume 75 percent more oil per day per capita than the people of Japan and about double [that of people in] Europe. These are our industrial competitors and they live very comfortable, technologically advanced lifestyles. Making our homes more efficient and reducing our fuel use for transportation are the two biggies.
---