In Motion: The Experience of Travel
How the art of "Deep Travel" can transform even our mundane trips into something transcendent.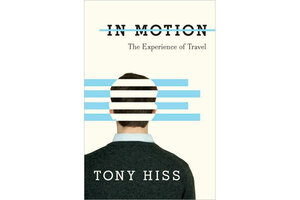 In a 1990 book called "The Experience of Place," author Tony Hiss advanced a seemingly simple proposition, suggesting that the spaces around us profoundly shape our minds, our moods, our quality of life. While the logic of his premise might have appeared self-evident, Hiss drew upon the best thinking of art, science, and social theory to affirm what many of us suspected we already knew, yet had somehow too often forgotten.
"The Experience of Place" has gone on to become a modern-day classic, widely read among urban planners and general readers alike. It has also been at the forefront of a flowering of literature about the philosophy of man-made landscapes. They include William Leach's "Country of Exiles: The Destruction of Place in American Life," as well as several books by William Kunstler: "The Geography of Nowhere," "Home from Nowhere," and "The City in Mind: Notes on the Urban Condition."
In his new book, In Motion: The Experience of Travel, Hiss revisits his earlier technique: Take a proposition that appears intuitive, then slowly tease out its implications for the way we live now, and how we should live going forward.
"Deep Travel" begins with the assumption that when we take a trip, something sublime can change the way we perceive the world. Somehow, our vision tilts, our senses are shaken awake, and we can feel refreshed by what we see. This is, after all, why we travel for pleasure: to see new places that will somehow make us new in the bargain.
But Hiss takes the principle a step further, arguing that this same sense of transformation – what he calls "Deep Travel" – can also be enjoyed in the more modest trips we take every day: running to the store, commuting to work, walking within our own neighborhoods.
---