Storyteller
Two young women, living in vastly different times, encounter the American Revolution.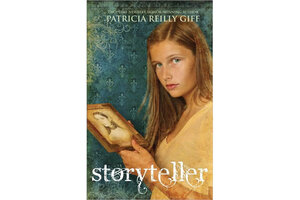 Elizabeth's Aunt Libby is not exactly the family member the young girl would choose to move in with while her father travels to Australia. Libby is a scientist who lives alone with no children of her own. She sends Elizabeth odd birthday and holiday cards at the proper time, but Elizabeth's mother died long ago and she's only seen her aunt – her mother's sister – perhaps twice in her life.
But Pop insists that this is the best plan, so off Elizabeth goes.
Soon after her dad drops her off at the house where Aunt Libby and Elizabeth's mom grew up, Elizabeth notices a portrait of a young woman in the hall.
Her aunt tells her that the parchment sketch is of a girl called Zee, an ancestor they know little about. Modern-day Elizabeth, with her streaked hair, hoodie, and jeans, looks at the picture of her ancestor in a cap and kerchief, and suddenly is eager to learn more.
With this simple device, Patricia Reilly Giff's Storyteller sends young readers back to the 18th century and the American Revolution. Elizabeth's curiosity sets her delving into Zee's life. Her research uncovers a dramatic tale. Zee's family was split apart. Her brother and father left home to fight for the Revolution and then Zee's mother was killed, probably by Loyalists supporting the king. Young Zee was forced to fend for herself.
---