Chocolate Wars
Historian and Cadbury relative Deborah Cadbury chronicles the struggle for global chocolate supremacy, a battle which pitted unbridled capitalism against pious Quaker idealism.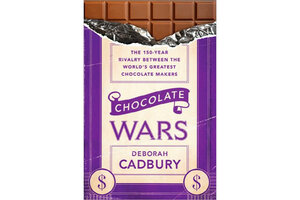 It pits idealism against capitalism, religious piety against the forces of greed and cutthroat competition. Though, like great fiction, it defies belief, it's the true story of our favorite guilty pleasure. (In fact, I could probably fish the remnants of a Snickers wrapper out of my jacket pocket nearly any time. I'm not proud, I'm just saying...)
For nearly a century and a half, the forces of Mars, Hershey, Lindt, Nestlé, and Cadbury battled it out for global chocolate supremacy. The slow evolution of the stone-hard, greasy, and nearly inedible "chocolate bar" of the 1850s into the sensuous, melt-in-your mouth confections of today would take saintly patience, great ingenuity, vast sums of money, and the kind of industrial espionage that would make 007 green with envy. The long, winding road to the perfection of cocoa drinks and milk chocolate and the opening of international markets was littered with many casualties – not only "lost" candy bars and shuttered factories, but to many in Britain, innocence itself.
The sweet center of Chocolate Wars is historian Deborah Cadbury's captivating narration of the story of her relatives, Cadbury Bros. executives Richard and George Cadbury. Devout Quakers, the brothers' legacy owes as much to their enlightened business practices and jaw-dropping generosity as it does to their much-loved chocolate treats. In fact, the three largest British chocolate firms were all helmed by Quakers, whose religious tenets defined the accumulation of personal wealth as a sin.
---