Journal of an Ordinary Grief
His troubled connection to his homeland is a key theme in this uneven but thoughtful collection of the writings of Palestinian poet Mahmoud Darwish.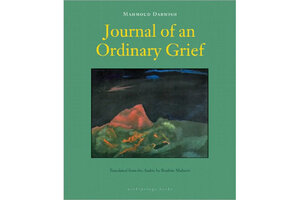 "What is homeland?" asks famed Palestinian poet Mahmoud Darwish in his Journal of an Ordinary Grief, an intriguing but uneven collection of ruminations and autobiographical fragments that first appeared in Arabic in 1973 and is now being published posthumously in English. He has several answers. The most powerful? "To hold on to your memory – that is homeland."
Memory is a central theme of this book, which has been capably translated and helpfully annotated by Ibrahim Muhawi. Lamenting the plight of Palestinian refugees some two decades after Israel's founding in 1948, Darwish indignantly addresses the double standard many Israelis apply to the Jewish and Palestinian affinity for the holy land: "He who allows himself a flood of tears for two thousand years cannot blame the one who has been crying for twenty years of having merely fallen prey to delusion."
Darwish, who died in 2008 at age 67, was one of the Arab world's most renowned poets. His poems were often about Palestine, and many were set to songs by famous Arab singers. Darwish's story begins in the middle of the 20th century. In the war over Israel's creation in 1948, 700,000 to 800,000 Palestinians were expelled from or fled their homeland. Darwish's family, with the young Mahmoud in tow, chose to wait out the war in Lebanon. Prevented from returning to what became Israel, they sneaked back in. But that hardly ended their woes. "They called us 'present-absentees' so we would have no legal right to anything," complains Darwish of the Israeli authorities. He left Israel in 1970 and later joined the Palestine Liberation Organization (PLO), which prompted Israel to bar him from returning for decades.
---