As China Goes, So Goes the World
The world's fourth-largest country is undergoing transformation at a break-neck speed. What does that mean for the rest of us?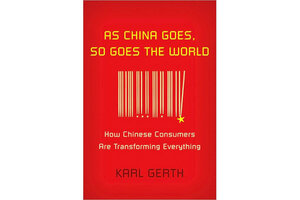 China. It's vast, it's complicated, and it's a very hot story right now. In a matter of a few short decades the country has transformed itself from "closed for business" to an economic powerhouse. Gone are the days of having to carry around and reuse one pair of chopsticks for years. Today, Beijing alone consumes 10 million pairs of disposable chopsticks daily. Gone are the days when transportation meant identical bicycles crowding city streets. China has become the No. 1 consumer of cars in the world. And these changes just begin to tell the story of an increasingly Western-style, consumer-driven China.
But what are the consequences of such rapid changes?
"The Chinese don't even have to 'catch up' with the developed world to trigger profound global changes," writes Karl Gerth, author of As China Goes, So Goes the World. "They just have to keep doing what they are already doing: moving in the American direction."
The full title of Gerth's book is "As China Goes, So Goes the World: How Chinese Consumers Are Transforming Everything"... and if "everything" sounds like a bit of a hyperbole, give Gerth a chance to explain. His point is that even as Western-style consumerism has driven major changes within China, that same trend driving production and capitalism also has a ripple effect that has the potential to make drastic cultural, economic, and environmental changes both inside and outside the country.
---