Fall of Giants
Ken Follett's "Century Trilogy" is off to a strong start with "Fall of Giants" – a massive, compelling story of World War I.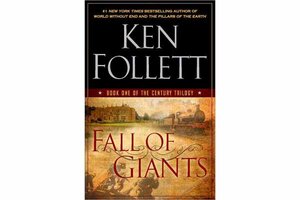 When Ken Follett published a doorstop novel in 1989 set in the Middle Ages and centering on the construction of a cathedral, it marked a major departure for an author known for turning out brisk thrillers.
That book, "The Pillars of the Earth," sold boatloads and won raves. Follett enjoyed his foray into what were for him uncharted waters, but soon got back to the business of more conventional thrillers. Two years ago, he resurrected his historical muse in "World Without End." Set in the same English town as "Pillars of the Earth" but 200 years later, its sprawling cast included descendants from the earlier book and took place amid the great plague. It, too, won favorable reviews and became a fixture on bestseller lists.
Those two historical novels laid the foundation for what no doubt will be Follett's most audacious literary adventure: The Century Trilogy. If the first installment – the recently published Fall of Giants – is any sign, readers are in for a memorable, and lengthy, ride.
The first novel thumps down on the nightstand with heft at 1,000 pages. Reviewers love to wax poetic about pages fluttering past. Follett is among the handful of authors capable of justifying such hype. Starting life as a thriller writer trained him well to keep plots – and pages – moving at a torrid pace.
In "Fall of Giants," he manages to steer more than 100 significant characters (fictional and real figures both stride across Follett's vast stage) amid the buildup and subsequent carnage of World War I.
The primary protagonists come from five families: one American, one Welsh, one Russian, one English, and one German.
Welsh siblings Billy and Ethel Williams give the novel its heart. When the book opens, Billy has just turned 13 and is making his first trip into the coal mine with his father, who is a union organizer. Ethel, 18, is on the staff at the home of Earl Fitzherbert.
---