Classic review: The Guernsey Literary and Potato Peel Pie Society
"The Jane Austen Book Club" meets "84 Charing Cross Road."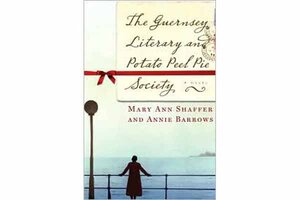 [This review from the Monitor's archives originally ran on on July 28, 2008.] If you want to make bookworms like me happy, give us a book about books. Reading them, writing them, selling them, binding them – we are not picky. Have your characters sit around and talk about their favorites; we'll be engrossed for hours.
The book-club book has become a staple of women's fiction (can I just mention how much I loathe that term?) probably because publishers figure book clubs are likely to buy lots of copies. There have been some I've enjoyed ("The Jane Austen Book Club") and more that I forced myself to finish. But I've never wanted to join a club as desperately as I did while reading The Guernsey Literary and Potato Peel Pie Society. (I'll pass on the refreshments though, thanks.)
The debut novel by the late Mary Ann Shaffer and Annie Barrows is written as a series of letters that tells the history of a small group of Channel Islanders during five years of Nazi occupation.
Treated as an alibi, the society actually began life as a pig roast. Islanders were no longer allowed meat, but a local woman managed to hide a pig from the German soldiers and invited her neighbors to share. Caught out after curfew, one of the conspirators claimed that they were a book club who had been so engrossed that they lost track of time.
The ruse worked. The alleged book: "Elizabeth and Her German Garden." The potato peel pie part is the result of the culinary creativity necessary when you don't have any flour, sugar, or butter. It's made of mashed potatoes for the filling, with strained beets for sweetener and peels for the crust.
---