Voltaire: A Life
Another look at the life of Voltaire, the 18th-century philosophe whom many would call the greatest, most interesting man of his epoch.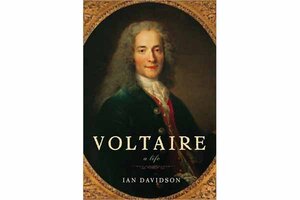 When Voltaire wrote histories and biographies of famous men – Charles XII, Peter the Great – he smiled all the way through, never showing the strain of research. He read everything he could and corresponded with every eyewitness possible, but he composed as if he were lecturing off the top of his witty head. Ian Davidson, on the other hand, has read – he tells and practically shows us in his new biography Voltaire: A Life – all 15,284 extant letters Voltaire wrote.
First, let's applaud Davidson for the effort (which, to his credit, he says was a pleasure, even as he absurdly insists it is the only real way to understand Voltaire), then let's shake him by the shoulders and ask him if keeping his nose in the 13 volumes of letters really gives us any perspective as to why Voltaire – who communicated his spirit and ideas through drama, poetry, fiction, history, and essays – was just about the greatest literary figure of the 18th century.
Born in Paris in 1694 as François-Marie Arouet, Voltaire became a writer in spite of his father's admonitions to the contrary. On his way to becoming the most famous playwright in France, he wrote verses that mocked the French regent's daughter, which got him exiled to the countryside for half a year. Then he wrote an anonymous poem that tweaked the regent himself, which cost him almost a year in the Bastille and, eventually, banishment from Paris.
---