The Masque of Africa
How are are Africa's religions faring in the 21st century? Nobel laureate V.S. Naipaul visits to find out.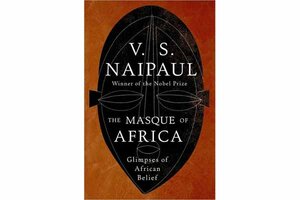 Born in Jamaica in 1932 to a Hindu family, V.S. Naipaul moved to England as a young man to study and pursue a career as a writer. In a series of novels, essays, and travelogues that was recognized with the Nobel Prize for Literature in 2001, Naipaul has drawn upon his personal origins to explore what happens when two worlds meet.
He is particularly interested in the intersection between Western modernity and traditional cultures, quite often in postcolonial countries once governed by Europeans.
Naipaul is perhaps the only Nobel laureate whose literary output has focused so heavily on travel writing. His unusual stature as a travel writer stems from the unusual nature of the travel books themselves. They're psychologically dense, drawing on reams of interviews with locals to render a narrative that's as much as landscape of the mind as a landscape of the map.
In The Masque of Africa: Glimpses of African Belief, Naipaul travels to Uganda, Ghana, Nigeria, the Ivory Coast, Gabon, and South Africa, exploring how indigenous religions, as well as Christianity and Islam, are faring as Africa faces the 21st century.
---