The Dirty Life
What happens when a Manhattanite in a white designer blouse meets an exasperatingly idealistic organic farmer.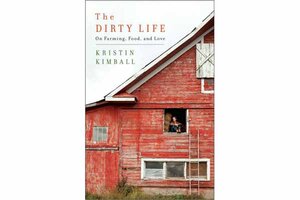 Farming memoirs are nothing new, and neither are accounts of city slickers recharged by a move to the country. Kristin Kimball tends her own unique plot, though, in The Dirty Life: On Farming, Food, and Love, her leap from single freelance writer to married full-time farmer.
Kimball's journey began when she drove from Manhattan to Pennsylvania to interview a young organic farmer for a story on the hot topic. Kimball, a Harvard graduate, was a mildly lactose-intolerant longtime vegetarian wearing a white designer blouse. Mark, a hardworking, "complicated and exasperating" idealist, set her hoeing broccoli because he was too busy to sit for an interview. That summer night, she helped him slaughter a pig. By winter, they were engaged.
Kimball gave up her apartment in the East Village, and the couple created a new life together at Essex Farm in upstate New York, a 500-acre property where their goal was to offer a "whole diet" service providing everything from meat and milk to vegetables and grains. The memoir covers the year where they establish the property, farm their first harvest, and plan their own wedding.
---