A Voice from Old New York
Louis Auchincloss shares glimpses of his remarkable life – both as a writer and a highly privileged New Yorker.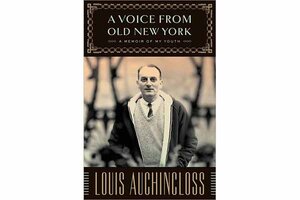 Was Louis Auchincloss a snob, as his mother claimed – ruing her third child's "admiration of wealth," which unpleasantly evoked her snobbish grandmother – or simply a relic of another era? In his posthumously published memoir, A Voice from Old New York, Auchincloss recaptures a time when there was "a predominating and generally recognized Society" in the "marvelous" city where not only he but all of his grandparents "dwelled merely by advantage of birth."
Honored by the New York Landmarks Conservancy in 2000 as a "Living Legend," Auchincloss was a link to the privileged New York of Edith Wharton and Theodore Roosevelt, the subjects of just two of the more than 60 books he wrote during his long, productive life.
The bulk of Auchincloss's oeuvre were novels about New York's patrician class and the interplay of money and morality in the lives of its lawyers, bankers, and brokers. Before he died in January, 2010, at the age of 92, he turned his discerning eye on his own family, education, and career, duplicating but also amplifying some of the material covered in his 1974 autobiography, "A Writer's Capital."
Freed from constraints by the deaths of many of its players – including his parents, all but one sibling, and friends such as Jacqueline Onassis (a cousin by marriage) and Brooke Astor – "A Voice From Old New York" addresses various episodes in Auchincloss's life with greater frankness. These include his sister's battles with depression and confessions of his own isolated incidents of larceny and vandalism before the age of 10. In "A Hang-up," he writes with restrained frankness of a deep-seated fear of castration that inhibited his sexual development well into adulthood, until he finally sought help from "a brilliant psychiatrist."
---