Classic review: The Great Transformation
Between 900 and 200 BCE, breakthroughs around the world laid the foundation for the emergence of today's major faiths.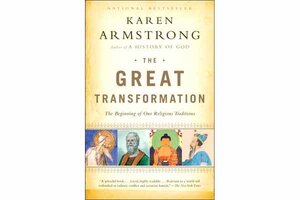 [This review from the Monitor's archives originally ran on Apr. 4, 2006.] In times of violence and upheaval, people historically have turned to religion to ground and guide them. Yet today, religious voices often seem strident and provocative. Does it make sense to think that people of faith can point a way through the unprecedented tensions of an unsettled, globalizing world?
Karen Armstrong is better positioned than most to answer that question. As author of a string of bestsellers on various religions (including "The Battle for God," a history of fundamentalisms), she has dedicated herself to understanding the most prominent world faiths and explaining them to a secular/postsecular society.
In her view, the one hope for surviving today's challenges lies in a spiritual revolution, one that recaptures the essential wisdom found at the roots of contemporary traditions.
The Great Transformation: The Beginning of Our Religious Traditions is a masterful survey of the historical period that German philosopher Karl Jaspers named "the Axial Age," for its pivotal role in the spiritual history of humanity.
Between about 900 and 200 BCE, breakthroughs occurred in several parts of the world that created the foundations of today's major traditions: Buddhism and Hinduism in India; Confucianism and Daoism in China; monotheism in Israel; and philosophical rationalism in Greece.
"During this period of intense creativity, spiritual and philosophical geniuses pioneered an entirely new kind of human experience," Armstrong writes. These thinkers, she adds, "can still fill us with emotion because they show us what a human being should be."
---