Fallout
A pair of NY Times reporters offer a damning indictment of the CIA's failed war on nuclear proliferation.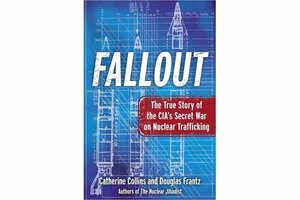 Wannabe nuclear powers must love the Internet. Imagine the headaches a rogue nation would have had trying to enrich uranium during the cold war: build a spy network, recruit double agents, arrange illicit midnight meetings at spooky train stations along the borders of non-NATO countries where chain-smoking men wearing fedoras and black overcoats can exchange weapons designs scribbled on wrinkled cocktail napkins. The bill for fake moustaches alone would bankrupt a small country.
In 2010, nuclear proliferation is a lot easier. Facebook is great for sharing pictures of your newborn. It's even better for posting classified sketches of P-2 centrifuges. And because sharing nuclear technology is now as easy as pressing "send" in an e-mail, it's become more important than ever to stop it. The Central Intelligence Agency understands that, right?
Maybe not. In Fallout: The True Story of the CIA's Secret War on Nuclear Trafficking, New York Times veterans Catherine Collins and Douglas Frantz Monday morning quarterback the CIA's failed war on nuclear proliferation.
---