A Rope and a Prayer: A Kidnapping From Two Sides
How journalist David Rohde and his wife coped when he was taken captive in Afghanistan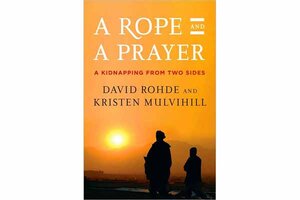 Countless prefabricated homes equipped with single-car garages intermingle in perfect suburban order. Irrigation canals nurture a lively bloom uncharacteristic of the harsh surroundings. This is not Tucson, but what historian Arnold Toynbee termed "a piece of America inserted into the Afghan landscape." Lashkar Gah, which locals once called "Little America," is the capital city of Afghanistan's southern Helmand Province.
The growth of Little America was the result of a bold US campaign from 1946 to 1979 that sought to counter Soviet influence in the area. USAID and Army Corps of Engineers personnel assisted in the construction of more than 1,200 miles of roads and 300 miles of irrigation canals. Peace Corps volunteers taught English and sciences to local children, girls included, with the intent of creating a rising generation of educated leaders and thinkers. The Soviet invasion left American efforts in the region hamstrung.
---
Follow Stories Like This
Get the Monitor stories you care about delivered to your inbox.