Behind the Dream
A key Martin Luther King aide offers a fascinating new, first-hand perspective on the "dream" speech.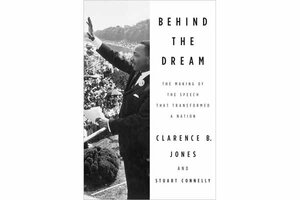 On August 28, 2010, thousands assembled in front of the Lincoln Memorial for a rally organized by Glenn Beck, the conservative talk-show host. According to Beck, the gathering aimed to "Restore America's Honor." While it was not especially clear when or why the country's honor had been lost, this almost entirely white crowd had traveled to Washington to make known its belief that something was not right in America.
It was no coincidence that the site on which Beck's ardent army had decided to make its stand was the scene of another demonstration held on the same date 47 years earlier. On that day in August 1963, a quarter of million people, black and white, gathered with a more specific aim in mind: to help overcome racial oppression in America.
The principal speaker was not a talk-show host, but a black minister, and he gave one of the great speeches in American history. He told the nation of his dream about a better future, one in which character mattered more than skin color.
The words uttered by Martin Luther King Jr. on that summer day have become part of America's collective memory. Schoolchildren watch clips of the address in the nation's classrooms and college students study King's words and write papers analyzing every particle of his language.
In Behind the Dream: The Making of the Speech that Transformed a Nation, Clarence B. Jones, King's lawyer and one of his key aides, offers his distinctive perspective on that extraordinary August day, on King's speech, and on the black freedom struggle. (It is not altogether clear what role Jones's co-author Stuart Connelly played in this joint enterprise, since the book is told entirely from Jones's first-person perspective.)
---