The Quiet World: Saving Alaska's Wilderness Kingdom, 1879-1960
Development or conservation? Douglas Brinkley traces the debate over Alaska's riches.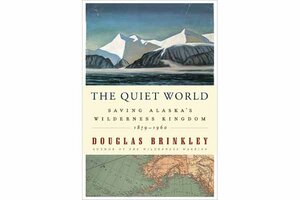 In The Quiet World, historian Douglas Brinkley pens an epic about America's Far North – you know, the place Sarah Palin is from. But just as book covers can sometimes be misleading, so, too, are subtitles, and the subtitle for Brinkley's volume is: "Saving Alaska's Wilderness Kingdom, 1879-1960."
Based on that description, a reader might expect a backward-looking narrative, long on soporific tree-hugger reflection and short on contemporary relevance.
Instead, "The Quiet World" is an homage to the wisdom of recent ancestors – avowed capitalists and preservationists – who fought for restraint against brazen attempts to conquer nature. And that is precisely what makes this book a poignant cautionary tale for policymakers considering quick get-rich fixes to long-term problems with ecological implications.
In 2010, the Arctic National Wildlife Refuge celebrated its 50th anniversary. Dramatic 20th-century events leading up to the sanctuary being created in 1960 represent a crescendo in Brinkley's plot development over nearly 600 pages.
But despite that landmark victory half a century ago, no protection is permanent. Soon debates will start anew on Capitol Hill as lawmakers decide again whether to allow oil and gas companies to invade the refuge premises.
Former Alaska governor, reality TV star, and possible presidential candidate Palin may cry "drill, baby, drill," but polls show that a preponderance of Americans, who have a romantic fascination with Alaska, disagree.
---