The Obamas: The Untold Story of an African Family
Filmmaker Peter Firstbrook traces Barack Obama's family back 700-plus years to the Sudan.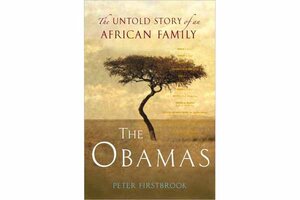 Barack Obama never lived in Kenya and he met his African-born biological father only once (at the age of 10, when his father visited him in Hawaii for part of a day). On his mother's side, the 44th president of the United States has a multiple-nationality ancestry typical of that of tens of millions of Americans: 37 percent English, with smaller mixtures of German, Irish, Scottish, Welsh, and Swiss.
So is there any reason to take a particular interest in President Obama's African roots? Would it not be overreaching to suggest that his Kenyan heritage plays a particularly significant role in shaping the man who today occupies the White House?
Perhaps. But Peter Firstbrook, a British documentary filmmaker who has traced the roots of the Obama family back to the year 1250, has nonetheless performed a useful service. Not only does his book, The Obamas: The Untold Story of an African Family, dig where other researchers have failed to look, but it also provides a compelling narrative about a place, a tribe, and the difficulties of uniting humanity across boundaries.
Firstbrook traveled to the African nation of Kenya, where he visited the towns and countryside around the shore of Lake Victoria still dominated by the Obama clan and other families that constitute the Luo tribe.
---