O: A Presidential Novel
An anonymous writer presents Obama in high-def but America in black and white.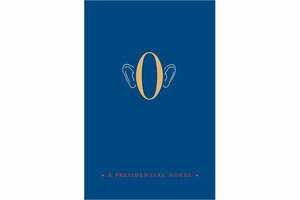 "What is O really thinking?" That's the lure O: A Presidential Novel, dangles before readers. Those hoping to better understand America's 44th president should take the bait, cautiously.
Its fiction – a future history of the 2012 campaign – is equal parts fun and forgettable. Its "truth" – an acid exposure of modern politics and a perceptive study of the mind of President Obama, his advisers, and the American people – is equal parts trite and transcendent.
The anonymous author, we are told, has "been in the room" with Obama. He or she clearly: considers the president (called O) a genius, holds most of the media in contempt, has a grudge against Arianna Huffington (mocked mercilessly as "Bianca Stefani"), and thinks every young woman is as ambitious as she is promiscuous.
The author has a gift for unpacking the psyche of politicos. And while not as nuanced as "Primary Colors," the 1996 satire of Bill Clinton, its insights about campaign culture and political counsel are astute. Its shortcomings arise mainly when the author, like an amateur toying with Adobe Photoshop, oversharpens the characters by setting the cynicism levels too high.
On the surface, the novel is quite friendly toward O and his team. It strives to make a president who doesn't suffer from low self-regard seem more human and sympathetic without appearing whiny. Some imagined exasperations might succeed in making all but the most hardened Obama critics appreciate O's toil, skill, and sacrifice in the face of daunting burdens. But this psychological photo-realism takes a toll, betraying O's insufferable elitism even in its praise. "He had an anthropologist's detachment," the author observes.
---