Gulag Voices
Thirteen writers give voice to their experiences in Soviet prison camps.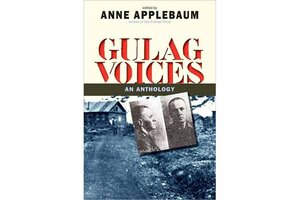 Solzhenitsyn has been dead for two years and the Soviet Union for 20. Unfortunately, that empire's gulag – the prison camp system that killed tens of millions of innocent citizens – is alive and well in countries across the globe, even as its ghosts continue to haunt contemporary Russia. The fall of the USSR meant that memoirs about the gulag system could be published in Russia, but somehow – unlike the German Holocaust – the gulag "is not a fashionable topic," writes Anne Applebaum, American journalist and Pulitzer Prize-winning author of "Gulag: A History."
"[T]he vast body of Gulag literature is for the most part not read in Russian schools or universities."
Which makes her anthology Gulag Voices all the more important. In Applebaum's collection, 13 relatively unknown writers (Alexander Solzhenitsyn, famed chronicler of the gulag, is not represented here) give voice to aspects of the gulag experience, from the early, scattershot days of terrifying repression in the 1930s to the smaller-scale but pitiless '60s.
The selected excerpts emphasize the daily life of the camps: work, love, sex, religion, food, family, and freedom with the corresponding interrogations, torture, despair, rape, starvation, and other atrocities. All are written with evocative detail and heighten interest in both the prisoners and their jailers. (When it comes to the jailers, the question is always the same: How could they? Journalist Lev Razgon, a gulag prisoner for 18 years, suggests an answer in a description of one of his jailers: "He did not steal, like most of his colleagues. Neither was he a despot: on the contrary, he kept strictly to his instructions. Zaliva was no sadist and when, during -40 degrees of frost, bound and completely naked 'refusers' were taken on sledges to the punitive outpost, he would follow their departure with sad regret in his eyes. He even had a certain Ukrainian kindheartedness and cheerfulness about him, tempered by the strictness necessary for his post.")
---
Follow Stories Like This
Get the Monitor stories you care about delivered to your inbox.