Haiti Noir
These 18 gritty tales – edited by award-winning Haitian author Edwidge Danticat – offer unique perspectives on life in the struggling nation.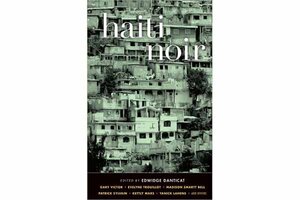 In 2004, the Brooklyn-based independent publisher Akashic Books released "Brooklyn Noir," a collection of all-new crime stories, each set in a different neighborhood of the borough. "Brooklyn Noir" won readers and awards, and spawned "Brooklyn Noir 2: The Classics," then "Chicago Noir," "San Francisco Noir," and "D.C. Noir." "Dublin Noir" was the first book in the series to leave the borders of the US.
Although crime-fiction stars like Dennis Lehane and George Pelecanos have edited previous volumes in the series, with Haiti Noir Edwidge Danticat becomes the first of the series's editors to have made her name as a mainstream literary author. (Coming up are "Lagos Noir" from Chris Abani and "New Jersey Noir" from Joyce Carole Oates.) Though best known as the author of melancholy, well-crafted works of fiction, Danticat is also the editor of the anthology "The Butterfly's Way," and three contributors to that book also appear in this one.
---