Classic review: The Count of Monte Cristo
A swashbuckling new edition of a story that never grows old.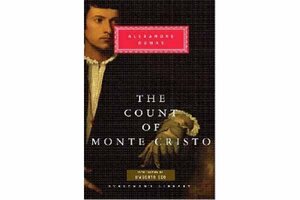 [This review from the Monitor's archives originally ran on July 14, 2009.] The Count of Monte Cristo, Dumas's doorstop of derring-do, demonstrates its durability yet again, this time in a newly edited version led by a perceptive essay by Italian master of letters Umberto Eco. In the name of the throes, Eco outlines all of the novel's excesses and weaknesses but still pronounces it irresistible.
He's right in every sense. Dumas suffers from logorrhea, induced by the simple formula that the more he wrote, the more money he made. Beyond that pecuniary circumstance, the author serialized his works, forcing endless repetition of scenes and dialogue in an attempt to ensure continuity. This newly edited version of "Monte Cristo" offers some streamlining, but it hasn't been noticeably trimmed.
After all, any novel running close to 1,200 pages cannot be deemed overedited. So it must be said of the latest Dumas. To this reader, who has read other editions of the book several times, the Everyman's version retains the heft and majesty of "Monte Cristo" in all of its breathtaking glory.
6 books to beat the winter blues
Dumas published the book in 1846. It is no exaggeration to say "Monte Cristo" still ranks as one of the most exciting stories imaginable, one every bit as good as anything Steven Spielberg or J.K. Rowling could ever conjure up.
---