Little Princes: One Man's Promise to Bring Home the Lost Children of Nepal
How one man's jaunt to Nepal became a mission of mercy.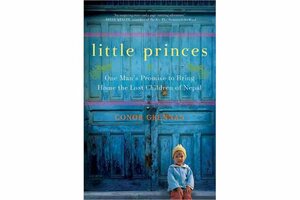 Two warnings: 1. Don't read Little Princes: One Man's Promise to Bring Home the Lost Children of Nepal in public unless you enjoy making a spectacle of yourself, wiping your eyes and blowing your nose every few pages; 2. Skip the middle photo insert until you've read the final page. My sole quibble with this book would be that the pictures – thoroughly appreciated! – need to appear at story's end so as not to reveal too much too soon. Other than that, get ready to be mesmerized by a wildly emotional thrill ride.
At age 29, Conor Grennan quit his international public policy job with peripatetic intentions, ready to invest his "entire net worth on a trip around the world." His first stop was a three-month volunteer stint in an orphanage in Nepal. He readily confesses that his lofty decision originated in earning bragging rights, as well as combating any forthcoming criticism about the "unrepentantly self-indulgent" nature of such a trip. He even formulated the perfect "selfless" response: "Well frankly, Mom, I didn't peg you for somebody who hates orphans."
Although Grennan learns that Nepal is in the middle of an endless civil war, he reasons that that's just an exaggeration: "No organization was going to send volunteers into a conflict zone." He knows next to nothing about the Nepalese language, history, customs, food. And, ironically, he lacks even "a single skill that ... would be applicable to working with kids" when he arrives in November 2004 at Little Princes Children's Home (named after Saint-Exupéry's "Le Petit Prince" by its French founder) in Godavari, a bus ride – and a world – outside Nepal's capital of Katmandu.
---