Classic review: Heloise and Abelard
The perfect Valentine's Day gift: a biography of history's most famous philosopher-lovers.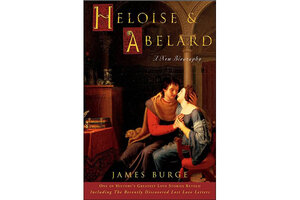 [This review from the Monitor's archives originally ran on Feb. 8, 2005.] We're devoting this book section to romance in preparation for Valentine's Day. That's less than a week away, which could be the most valuable information you learn today. There's still plenty of time to send a stunning bouquet of roses from Calyx & Corolla ($188.95). (I warned you it was stunning.) If you prefer something less subtle, you could mail a "Pajama Gram," which is just what it sounds like. (Valentine's Day delivery is guaranteed, but after that, you're on your own.) Meanwhile, the candy industry expects lovers and wannabe lovers to exchange 36 million boxes of chocolate on Feb. 14.
If all this sounds too sweet, direct your attention to a new biography of Heloise & Abelard, by James Burge. Their star-crossed romance is hot enough to singe Cupid's wings. Abelard was the hippest philosopher of the 12th century, and Heloise may have been the smartest woman. You probably thought the Middle Ages was all plagues and crusades and really bad haircuts, but these two passionate philosophers were carrying on while Christianity was plunging into a period of strict sexual prohibition.
Their story has been told before in songs, poems, plays, paintings, sculptures, and previous biographies - all based on eight remarkable letters that Abelard and Heloise exchanged 12 years after they were forced to separate under gruesome circumstances. Burge's book, however, is the first popular biography to benefit from the discovery in 1980 of a collection of fragments from the letters that Abelard and Heloise wrote to each other every day during their steamy two-year affair.
---