House of Prayer, No. 2
In powerful prose, a writer sketches his eventful journey to a better self.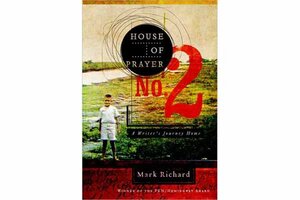 When a writer unleashes the second-person singular, watch out.
"You are not the kind of guy who would be at a place like this at this time of the morning," begins Jay McInerney's landmark 1984 novel "Bright Lights, Big City."
With one simple "you," McInerey forces his readers to identify with an unnamed protagonist who's been up all night snorting cocaine at sketchy clubs in Manhattan.
Scott Brown memoir details childhood abuse and an early life of hardship
Those readers could be Franciscan nuns, members of U2, or Idahoan tea partyers sporting Sarah Palin bumper stickers on their Ford 150s. It doesn't matter. With the second person, McInerney smuggles his art into his audience's subconscious.
This is a powerful move – heavy artillery in any author's arsenal. But deploying the second person in a memoir, as Mark Richard does in the entrancing House of Prayer No. 2: A Writer's Journey Home, is like dropping an atomic bomb. Richard's prose is gorgeous – and hits with a force that sometimes stuns.
"Say you are a special child," Richard writes. Born in the 1950s to Gulf Coast Cajun parents struggling to adapt to life in Virginia's tobacco country, Richard's breathless description of his chronic hip problems is worth quoting at length: "Say one reason you are special is because there is something wrong with your legs. You cannot run. Your legs will not move fast enough. When you try to run, your hips click and pop. When you have to run a race ... you pretend to trip and fall and not finish the race. You avoid footraces; you avoid running at all. When something bad happens and everyone else runs away, rocks thrown through greenhouse glass, loose spikes thrown at passing caboose windows, fishing boats untethered along a riverbank, you know you will have to face whoever is coming in their anger. You learn you must never get caught."
---
Follow Stories Like This
Get the Monitor stories you care about delivered to your inbox.